Coccidiosis - Pig
Jump to navigation
Jump to search
Introduction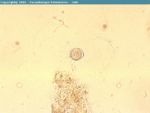 There are many species of Eimeria and Isospora found in pigs, but Isospora suis is the only coccidia of clinical pathogenic importance. It is primarily a disease of the young (1-3 week old) piglet and can be a cause of economic loss in pig herds. Research has shown that clinical coccidiosis is present in herds in all parts of the UK and worldwide.
Clinical Signs
Coccidiosis in piglets is characterised by sudden onset diarrhoea, which usually profuse and can result in rapid death due to dehydration. The appearance of the diarrhoea is usually pale yellow or white and has a watery consistency. Infected piglets are usually more hairy and thinner than the littermates.
Diagnosis
The onset of profuse diarrhoea along with the characteristic age of the piglet would lead one to make a presumptive diagnosis of coccidiosis.
Failure of the piglet to respond to antibiotic treatment is also indicative of coccidiosis.
The diagnosis should be confirmed by faecal samples to examine for oocysts, which should be taken 2 - 3 days after diarrhoea has begun as diarrhoea starts a day before oocysts are passed. Faecal floatation or faecal smears should be used to identify and count the oocysts.
Treatment and Control
Toltrazuril (Baycox) when given as a treatment will prevent mortality in pigs with the disease. It can also be given at 3 days of age by stomach tube to prevent diarrhoea and oocyst shedding.
Palliative care in the form of rehydration and electrolyte solutions are the mainstay of treatment of most causes of diarrhoea in neonates.
Improvement of hygiene is the best control mechanism to prevent coccidiosis, such as thorough disinfection of all farrowing crates and housing and good ventilation. Faeces should be removed from farrowing pens as soon as possible so as to reduce faeceo-oral transmission of the disease. Crate to crate transmission should be decreased by hand sanitisation facilities and the work force should be made aware of the seriousness of the disease in order to enforce these measures being taken.
Test yourself with the Coccidia Flashcards
References
Cowart, R.P. and Casteel, S.W. (2001) An Outline of Swine diseases: a handbook Wiley-Blackwell
Fox, M and Jacobs, D. (2007) Parasitology Study Guide Part 1: Ectoparasites Royal Veterinary College
Jackson, G.G. and Cockcroft, P.D. (2007) Handbook of Pig Medicine Saunders Elsevier
Radostits, O.M, Arundel, J.H, and Gay, C.C. (2000) Veterinary Medicine: a textbook of the diseases of cattle, sheep, pigs, goats and horses Elsevier Health Sciences
Straw, B.E. and Taylor, D.J. (2006) Disease of Swine Wiley-Blackwell
Taylor, D.J. (2006) Pig Diseases (Eighth edition) St Edmunsdbury Press ltd