Dermatophilosis - Cattle
Jump to navigation
Jump to search
Also known as: Cutaneous streptothrichosis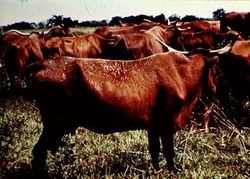 Also see General Dermatophilosis
Clinical Signs
The disease is rarely reported but causes lesions which are distributed over the head, dorsum, neck and chest. Cattle that stand for long periods in deep water and mud develop lesions over the flexor surfaces of the joints. Dairy cows may develop lesions on the udder.
Lesions may resolve within weeks in dry weather but prolonged wetting of infected areas can lead to secondary bacterial infection which can result in limb oedema and cellulitis.
Treatment
Bring affected animals into a dry environment. Investigate any underlying problems which may predispose to the infection. Antibiotics can be given intramuscularly and typically work following one dose. However if signs do not resolve a 5 day course should be administered. Penicillin and streptomycin are good choices for this disease. Additionally, dips containing 0.2% Copper Sulphate or 0.5% Zinc sulphate can be effective.
Literature Search


Use these links to find recent scientific publications via CAB Abstracts (log in required unless accessing from a subscribing organisation).


Bovine dermatophilosis
References
Merck & Co (2008) The Merck Veterinary Manual (Eighth Edition) Merial
4th year Veterinary Dermatology notes. Royal Veterinary college. October-November 2008. p60-64.