Dog and Cat Nutritional Guidelines
National Research Council (NRC) Publications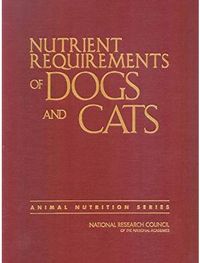 The NRC was established by the National Academy of Sciences in 1916[1]. It is not part of the United States government and is not an enforcement agency, but was expressly commissioned to provide advice to the U.S. government on scientific and technical matters. The activities of the NRC Committee on animal nutrition include the development of nutrient requirement standards for domestic and laboratory animals such as the Nutrient Requirements of Dogs and Cats 2006, written by the ad hoc Committee on dog and cat nutrition. The 2006 NRC publication provides a thorough review of the scientific literature and makes recommendations for both the minimum requirement and safe upper limit of intake of nutrients in healthy dogs and cats. Although the 2006 edition has added values of recommended allowances, nutrient availability and digestibility of pet foods processed with typical ingredients may still differ. While the publication is not used directly to establish regulatory standards for commercial pet foods, the recommendations contained in the NRC Nutrient Requirements of Dogs and Cats are considered by other organizations charged with that task (e.g., FEDIAF, AAFCO). It is an important source of research information on small animal nutrition, and is cited frequently in the scientific literature.
The Nutritional and Analytical Sciences Working Group of FEDIAF developed nutritional guidelines for cats and dogs, which are updated as soon as new scientific data become available. The objective is to provide practical nutrient recommendations for pet food manufacturers when formulating products for healthy dogs and cats during adulthood, growth and reproduction, and to be the reference document on pet nutrition in Europe for EU and local authorities, consumer organisations, professionals, and customers. The guidelines use NRC recommendations and studies published by internationally recognized nutritionists, veterinarians and other researchers. AAFCO official publications are also taken in consideration. The nutrient levels take into account the (lower) energy requirements of household pets and, where possible, availability data from practical pet foods. The FEDIAF Nutritional and Analytical Sciences Working Group cooperates with a Scientific Advisory Board of 10 leading nutritionists from different European universities.
In 1990 and 1991, AAFCO established the Canine Nutrition Expert (CNE) and Feline Nutrition Expert (FNE) subcommittees[2]. The CNE and FNE subcommittees were charged with updating practical nutrient profiles for both dog and cat foods based on commonly used ingredients[3]. The profiles are updated periodically, the last revision occurring in 2016. Under the AAFCO model regulations, meeting the AAFCO Dog and Cat Food Nutrient Profiles is one basis for substantiation of nutritional adequacy (complete and balanced) of a product for the designated life stage[3]. The alternative means of ensuring nutritional adequacy of a food is either to perform feeding trials according to standardized feed testing methodology developed by AAFCO, or to formulate the product to meet the criteria as a member of a product family, i.e., a group of similar products whose lead member was demonstrated to be complete and balanced through passage of a feeding trial. All products sold as "complete and balanced" in the U.S.A. must substantiate nutritional adequacy through one of these methods, as no other nutritional authorities are recognized. Those that do not and are not prominently identified as a "snack," "treat" or "supplement" must bear the statement "This product is intended for intermittent or supplemental feeding only."
References
↑ National Research Council. Nutrient Requirements of Dogs and Cats. Washington, DC: National Academy Press, 2006.
↑ Roudebush P, Dzanis DA, Debraekeleer J, Watson H. Chapter 9. Pet Food Labels. In: Small Animal Clinical Nutrition 5th edition, MS Hand, CD Thatcher, RL Remillard, P Roudebush, BJ Novotny, edits. M. Morris Institute Topeka, KS, USA 2010; 191-206
| | |
| --- | --- |
| Endorsed by Mars Petcare, the world's leading pet nutrition and health care business that strives to make A Better World for Pets every day. | |