Feline Behaviour Launch
Jump to navigation
Jump to search
New Feline Behaviour Section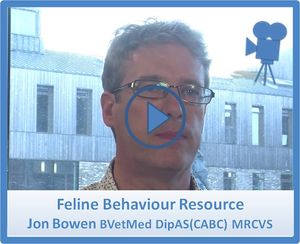 We are always working to add to the content on the site to support the highest standards of veterinary education. As part of this commitment, we have just completed a comprehensive new section on feline behaviour in collaboration with Ceva Santé Animale S.A. authored by the respected expert Jon Bowen BVetMed DipAS(CABC) MRCVS. The content is now officially launched and made available to vet students, vets, vet nurses and pet owners through WikiVet. There is currently limited information on the topic of feline behaviour, which the partnership seeks to address through the project.
The Global Student Challenge - Feline Behaviour
To increase awareness of the venture, WikiVet ran The Global Student Challenge; an online quiz for which the three leading participants were awarded a generous e-book prize provided by Wiley.
The three leading participants were:
Zoe Veysey from UK - Bristol Veterinary School is a second year (going into third year) veterinary student who previously completed a BSc (Hons) degree in Zoology at Liverpool John Moores University. Zoe is originally from Holywell in North Wales and has been fortunate enough to have been able to work as an auxiliary nurse at a veterinary practice in North Wales for the last 6 years. Zoe hopes to work in mixed first opinion practice when she graduates although she also has an interest in internal feline medicine and of course feline behaviour!
Lily Fraser from Hungary - Szent István University, Faculty of Veterinary Science is a 20 year old cat lover and second year vet student who was born and grew up in Italy with German and Scottish parents, but now lives in Budapest with her cat Lord Susan, who she adopted there, as well as a series of foster dogs. Lily hopes to go into mixed practice after she graduates and enjoys playing the bass guitar and going to concerts when she's not studying.
Rebecca from the RVC in London.
E-books kindly donated by
Feline Behaviour Content Details
To help provide veterinarians, vet students, nurses and the public with higher quality resources in this area, the module includes an introduction to feline behaviour with an overview of normal feline behaviour, problem behaviour and management. Additional interactive materials include webinars and a quiz. The online webinars will include an introductory video, as well as sessions on spray marking and normal territorial behaviour. The feline behaviour module is freely available online to all users of WikiVet.