Gastritis, Haemorrhagic
Jump to navigation
Jump to search
Clinical
Usually only seen post mortem.
Stomach full of thick tarry clots.
Occasionally will vomit blood in life.
Pathology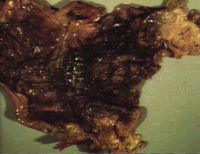 Gross
Wall of stomach is blacked and ulcerated.

Red, thickened, necrotic, haemorrhagic mucosa.
Histologically
Coagulative necrosis with fibrin, oedema, haemorrhage, and sometimes emphysema.
May extend deep into submucosa/muscle.
Pathogenesis
There are several causes of haemorrhagic gastritis

Aspirin and non-steroidal anti inflammatory drug toxicity.
Peracute / acute infections, e.g.

Swine Fever
Anthrax
Leptospirosis in dogs (Leptospira icterohaemorrhagiae).

Clostridial disease

e.g. Braxy (Clostridium septicum)

Affects older lambs or yearlings producing sudden death.
Usually seen on sheep grazing on frosted grass so more common in colder areas.
Bacterial exotoxin causes acute abomasitis.
Pathology- At post mortem the stomach is grossly distended with partially clotted blood. The wall of the stomach is thickened,reddened and oedematous.
Diagnosed by isolation of organism from the stomach wall.
Is now usually vaccinated against (Heptovac 7 in 1 clostridial vaccine).