Overview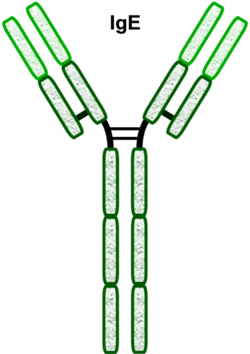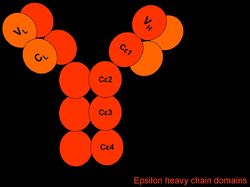 Commonly referred to as IgE.
Unlike IgM, IgG and IgA, IgE does not function as a soluble antibody, with binding to Fcε receptors required before it can bind to the target antigen, and is found in low levels in blood plasma. Like IgA, it is produced by plasma cells and is mainly localised to mucosal surfaces.
Structure
IgE is Y-shaped with heavy chain type ε, and exists as a monomer.
Note: Janeway [1] states that IgE has no hinge region whereas Tizard [2] indicates that it does.
Production
It is produced when TH2 cells stimulate CD40 and produce IL-4 and IL-13, which causes B cell differentiation to plasma cells and class switching to IgE production.
Function
References
↑ Janeway, C.A., Travers, P., Walport, M. and Shlomchik, M.J. (2005) Immunobiology: The immune system in health and disease. 6th ed. New York: Garland Science Publishing. pp.156-157.
↑ Tizard, I.R. (2004) Veterinary Immunology: An Introduction. 7th ed. Philadelphia: Saunders. pp.148-149.
Links
| | |
| --- | --- |
| | Originally funded by the RVC Jim Bee Award 2007 |