User:Bevpanto
Jump to navigation
Jump to search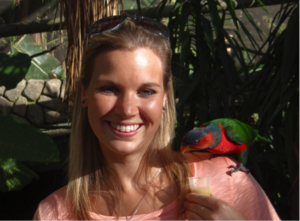 Bev Panto BVetMed BSc (Hons) CertAVP (ZooMed) MRCVS
Bev graduated from the Royal Veterinary College in 2009 with an intercalated degree in Veterinary Conservation Medicine from the University of Liverpool. Upon graduation she worked as the WikiMaster and developed WikiQuiz, with RCVS Trust funding. She also spent time working in East Africa both with wild and domestic species, whilst teaching vet students about their role as 'global citizens'.

She then spent 3 years as a small animal and exotics vet in Horsham, before moving into full time wildlife and exotics work as the Veterinary Officer at RSPCA Stapeley Grange Wildlife Centre and Cattery, working with a wide range of British wildlife and domestic species.

Bev is an Honorary Lecturer at the University of Liverpool, and runs the clinical exotics and wildlife teaching there. She holds the RCVS Certificate in Advanced Veterinary Practice in Zoological Medicine and is an RCVS Advanced practitioner in Zoological Medicine. She is also the veterinary advisor for a Ferret Rescue, and is a member of many different exotics and wildlife groups, and is the e-Education officer for the British Veterinary Zoological Society (BVZS).

Until recently, Bev worked part time at Chine House Veterinary Hospital in their exotics department, and has a particular interest in small furries and birds, particularly birds of prey. She has recently taken over the veterinary department at Drayton Manor Zoo - and is enjoying the challenges of working with a range of species from tigers to lemurs, stick insects to anacondas! In her spare time, she loves to travel – often taking busman's holidays to help with charity programmes all over the world; and also enjoys kayaking and running as well as being a keen tennis player. On less active days, she loves curling up with a good book, her two ferrets Rio & Rica, and her tropical fish (although the fish are less fond of a cuddle!).

Contact details
Email address: bev@wikivet.net