Veterinary Education Online
Jump to navigation
Jump to search
Global WikiVet Ed Fest 2022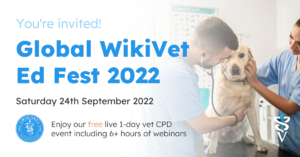 Did you see our Global WikiVet Ed Fest?!
Students enjoyed a 1-day virtual congress, with over 6 hours of premium quality webinars during the day.
You can now view the webinars on-demand now here
New Webinar From Protexin Veterinary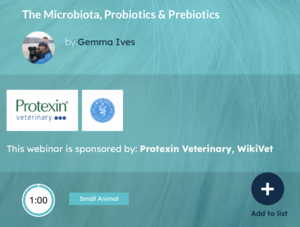 Watch Now! We have a new webinar on WikiVet by Protexin Veterinary 💻 🚨
In this webinar we take a look at the microbiota, what it is, why it is relevant to our veterinary patients and what happens when it becomes imbalanced (known as a dysbiosis). We then go on to learn about probiotics and prebioitcs and how they can be beneficial to our patients, before finishing up looking at some evidence supporting their use.
🔗 Watch the webinar
here.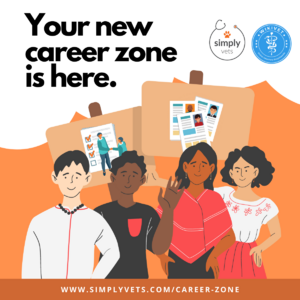 Visit Our Career Zone
Click here to view all sorts of content to help you reach your dream veterinary career. Read articles such as, 'LinkedIn For Veterinary Students', 'Interview Preparation: The Key To Success', and 'A Day In The Life Of a Small Animal Vet'.  If you're a veterinary student, or in the working world… then there's something for you!
Sign Up To The WikiVet Mailing List
Register here to sign up to the WikiVet mailing list. You will receive content such as our monthly newsletter, highlighting some of the latest and most popular WikiVet articles guaranteed to improve your veterinary knowledge.
New Content From Protexin Veterinary!
Take a look at Protexin Veterinary's new content: 'The Microbiota and Antibiotics'.
Latest Video
In this video, Sarah Heath talks about behavioural first aid for the confrontational dog. Sarah Heath BVSc PgCertVE DipECAWBM(BM) CCAB FRCVS is both an RCVS and an EBVS ® European Veterinary Specialist in Behavioural Medicine as well as a Certified Clinical Animal Behaviourist. She was made a Fellow of the Royal College of Veterinary Surgeons in recognition of her work in establishing behavioural medicine as a veterinary discipline. In this video, Sarah explains how to advise clients to manage cases until referral is possible.
The Webinar Vet's latest student bundles
Student Vet Year 1
Ethics and Welfare
I think this animal has been a victim of cruelty, what next?
Religious objections and futile treatments: a primer for handling euthanasia disputes
Student Vet Year 2
Interpreting Endocrinology Lab results
Adrenal testing dogs and cats: which test for what case?
A case-based approach to endocrine treatment
Student Vet Year 3
Tips and Tricks for getting the most from Cytology in practice
Rabbit clinical pathology
A review on equine parasitology
Student Vet Year 4
Standing sedation for the equine patient
Goats- practitioners survival guide to common health problems
Farm animal analgesia
Student Vet Year 5
Small animal surgery - abdominal emergencies
Large animal surgery basics
Sutures and knot tying. What to use, when and how
Social Media
Want to keep up with everything WikiVet? Follow us on all our social media here: Instagram, Facebook, Twitter, LinkedIn
If you have any comments or suggestions, please email the WikiVet team