Veterinary Education Online
Jump to navigation
Jump to search
Free Webinar!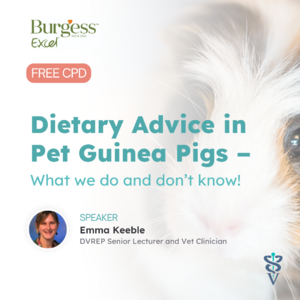 By increasing our understanding of the basic nutritional requirements of pet Guinea pigs, positive contributions can be made to improving their overall health and welfare. This webinar will review what we currently know concerning pet Guinea pig nutritional requirements. Wild Guinea pig diets will be discussed and current pet Guinea pig owner feeding habits detailed. The webinar will also cover possible adverse effects of incorrect nutrition on Guinea pigs and how this may affect their welfare. Were information is lacking for Guinea pigs, possible diet extrapolations from other species will be discussed. This webinar will be helpful as an overview of Guinea pig nutrition for all veterinary staff treating pet Guinea pigs, and giving dietary advice in veterinary practice.
Learning Objectives:
Recognise that Guinea pigs are popular pets, but are not routinely presented for veterinary examination unlike other pet species
Recognise that currently scientifically robust studies determining the nutritional requirements of pet Guinea pigs in the UK are lacking
Know what the current dietary recommendations are for pet Guinea pigs
Recognise the importance of dietary vitamin C for pet Guinea pigs
Know what potential adverse health effects may occur in pet guinea pigs associated with an incorrect diet
This webinar is free to watch with thanks to Burgess Excel.
🔗 Watch webinar here.
Latest Video
In this video, Sarah Heath talks about behavioural first aid for the confrontational dog. Sarah Heath BVSc PgCertVE DipECAWBM(BM) CCAB FRCVS is both an RCVS and an EBVS ® European Veterinary Specialist in Behavioural Medicine as well as a Certified Clinical Animal Behaviourist. She was made a Fellow of the Royal College of Veterinary Surgeons in recognition of her work in establishing behavioural medicine as a veterinary discipline. In this video, Sarah explains how to advise clients to manage cases until referral is possible.
VETchat Podcast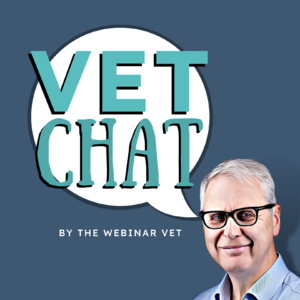 Looking for on-the-go content on all things veterinary? VETchat by The Webinar Vet brings you exclusive discussions with members all across the veterinary profession. From hot topical debates to mini CPD/CE lessons, we cover just about everything! Join us weekly to learn, be inspired, and be entertained.
Listen to all episodes HERE
Social Media
Want to keep up with everything WikiVet? Follow us on all our social media here: Instagram, Facebook, Twitter, LinkedIn
If you have any comments or suggestions, please email the WikiVet team