Category:Rhabdoviridae
Jump to navigation
Jump to search
Rhabdoviridae
Rabies is a neurological killer that has evolved a fool-proof technique of transmission, and it cleverly evades the species barrier to present a potent threat to mammalian life. While the simplicity of the virus ensures its transmission, it also contributes to its weakness: its monoclonal antigenicity means that a single vaccination covers all strains of the disease. Though rabies is considered endemic in parts of the developed and undeveloped world, vaccination schemes have rendered the disease controllable to a satisfactory degree. Nonetheless, infection is still largely fatal and the disease should not be taken lightly.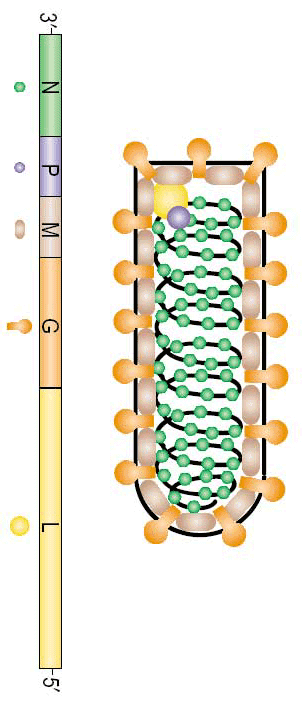 Morphology
Large, enveloped, negative-sense RNA virus
Bullet-shaped with short glycoprotein spikes
Types and Subtypes
Two Genera:
Lyssaviruses: 7 genotypes

Genotype 1 is classical rabies
Genotypes 2-7 more limited in distribution
Genotype 4 infects insectivorous bats

Vesiculoviruses are all exotic to the UK:

Ephemeral Fever
Fish Rhabdoviruses, such as viral hemorrhagic syndrome and infectious haematopoetic necrosis virus
Rhabdoviridae Learning Resources

Vetstream
To reach the Vetstream content, please select
Canis, Felis, Lapis or Equis
Pages in category "Rhabdoviridae"
The following 4 pages are in this category, out of 4 total.