Cattle Medicine Q&A 02
Jump to navigation
Jump to search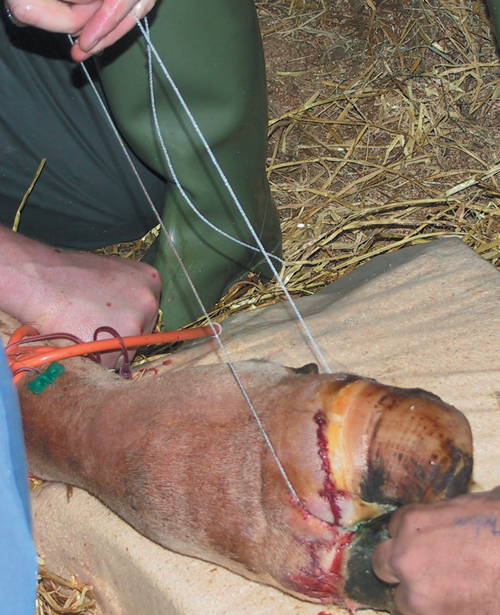 A Limousin bull presents with severe (10/10) lameness of the left pelvic limb with marked muscle atrophy over the left hip. The left hindfoot is swollen with marked widening of the inter - digital space. There is loss of hair and thinning of the skin extending all around the coronary band of the lateral claw extending proximally for 3 cm with a discharging sinus consistent with septic pedal arthritis.

Question
Answer
Article
Describe the method of analgesia you would employ for the procedure illustrated here

The procedure shown is digit amputation under intravenous regional anaesthesia. Flunixin meglumine (or other NSAID) is injected intravenously before surgery. A robust tourniquet is placed below the hock and 30–40 mL of 2% lidocaine1 is injected into the superficial vein running on the cranio - lateral aspect of the third metatarsal bone (butterfly catheter shown in situ). Analgesia is effective within 2 minutes.

Link to Article
How would you complete the procedure shown?

The interdigital skin is incised as close to the infected tissue as possible and the incision extended for the full length of the interdigital space to a depth of 2 cm cranially increasing to 4 cm caudally. A length of embryotomy wire is introduced into the incision and the lateral digit removed at the level of mid P2 (wire at 15° to horizontal). A melolin dressing (or similar) is applied to the wound then cotton wool and a pressure bandage applied using Elastoplast (or similar). The dressing is changed after 4 days. The bull made a full recovery and is still in the herd 18 months later.
If infection in the deep flexor tendon sheath has extended above the amputation site, 10–15 cm of flexor tendon can be removed to effect drainage.

Link to Article
Comments by Nick Lyons MA VetMB CertCHP MRCVS

1. The 2% lidocaine is not licensed in farm animals any more in the UK. In the UK, it should be 2% procaine solution.