Cattle Medicine Q&A 03
Jump to navigation
Jump to search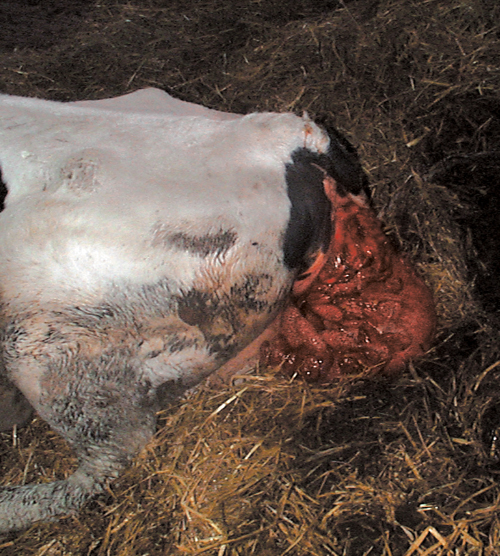 At 5 am you are presented with a recumbent 7-year-old Friesian cow which calved at some stage during the night and now has a uterine prolapse. The cow's head is averted against her chest and she is unable to gain her feet. There is moderate bloat.

Question
Answer
Article
How would you correct this problem?

The uterus is replaced after sacrococcygeal extradural injection of 6 mL of 2% lidocaine1. The cow is haltered and rolled on to her sternum and the pelvic limbs positioned behind with the hips fully extended and the weight of the cow's hindquarters taken on her stifle joints. The foetal membranes are carefully detached from the caruncles if possible. The prolapsed uterus is cleaned in warm dilute povidone–iodine solution and any gross contamination removed. The uterus is then held at the level of the vulva and replaced, starting at the cervical end. At first there seems to be little progress but eventually the uterine horn is replaced into the vagina and carefully returned to its normal 'comma-shaped' position. The pelvic limbs are returned to their normal flexed position. The prolapsed tissues can be retained using a Buhner suture of 5 mm umbilical tape but this is unnecessary when the prolapse is associated with hypocalcaemia.

Link to Article
What treatments will you administer?

Treatment includes the intravenous administration of 400 mL of 40% calcium borogluconate given slowly over 10 minutes with the heart rate monitored throughout infusion. Oxytocin (40 IU) is given intramuscularly. The cow is treated with parenteral oxytetracycline for 3 consecutive days to prevent metritis2. The cow was checked 21 days after calving as part of the herd fertility control programme and treated with prostaglandin F2 alpha for chronic endometritis.

Link to Article
Comments by Nick Lyons MA VetMB CertCHP MRCVS

1. The 2% lidocaine is not licensed in farm animals any more in the UK. In the UK, it should be 2% procaine solution.

2. There is good evidence that parenteral oxytetracycline does not reach high enough levels in the uterus to be efficacious against uterine infection. Therefore prophylactic use in this case in inappropriate.