Cattle Medicine Q&A 10
Jump to navigation
Jump to search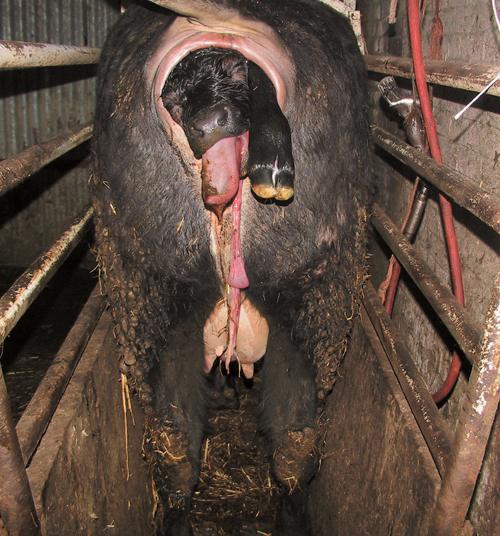 You attend a beef heifer to assist delivery of a calf in anterior presentation with unilateral (right) shoulder flexion (leg back). The calf is still alive despite the farmer applying considerable traction to the left leg using a calving jack.
Question
Answer
Article
How would you correct this malposture?

Correction of this malposture is best achieved with the cow standing in cattle stocks. Forceful straining during correction is prevented by injection of 5mL of 2% lidocaine1 into the extradural space at the sacrococcygeal site.

After 5 minutes the calf's head and left foreleg are well lubricated and slowly repelled until the calf's poll is level with the pelvic inlet. By first grasping the calf's right forearm then the mid-metacarpal region, the elbow and carpal joints are fully flexed which brings the calf's right foot towards the pelvic inlet.

With the fetlock joint fully flexed, and the foot cupped in one's hand to protect the uterus, the foot is drawn forward into the pelvic canal extending the fetlock joint.

Traction on the distal limb extends the elbow joint and the foot appears at the vulva where a calving rope is applied proximal to the fetlock joint.

The heifer should now be haltered and let out into a calving box. Steady traction of two people (veterinary surgeon and the farmer) pulling on the calving ropes applied to both legs will generally result in the heifer assuming lateral recumbency which aids delivery of the calf.

Link to Article
What treatment(s) should be administered to the heifer?

Treatment should include an NSAID which should be given before commencing delivery of the calf; however, the considerable vulval oedema present could also be treated with a single injection of dexamethasone.

Antibiotics should be administered for 3 consecutive days because placental retention is likely after dystocia, and there is an increased risk of metritis.

Link to Article
How should the calf be managed?

The umbilicus is immediately fully immersed in strong veterinary iodine, repeated 2 and 4 hrs later.
Two litres of colostrum should be administered by orogastric tube.

Link to Article
Comments by Nick Lyons MA VetMB CertCHP MRCVS

1. The 2% lidocaine is not licensed in farm animals any more in the UK. In the UK, it should be 2% procaine solution.