Cattle Medicine Q&A 11
Jump to navigation
Jump to search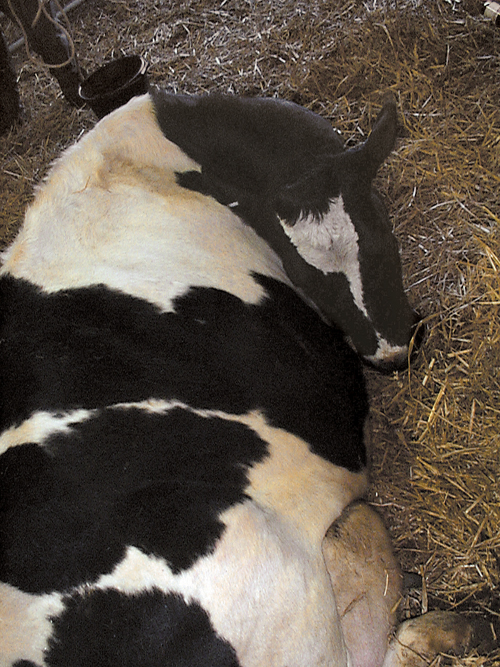 A 6-year-old Holstein cow, which calved 36 hr earlier, is presented in sternal recumbency, profoundly depressed, dehydrated, afebrile (38.5°C,101.3°F), with toxic mucous membranes, an elevated heart rate of 96 beats per minute, and an increased respiratory rate (34 breaths per minute). The udder is soft but a pale, serum-like, secretion can be drawn from one quarter.
Question
Answer
Article
Which diseases would you consider? (Most likely first.)

The most likely conditions to consider include:

environmental (coliform) mastitis
hypocalcaemia
acute septic metritis
other infectious conditions causing toxaemia/endotoxaemia
trauma at parturition with either ruptured uterus/peritonitis or severe haemorrhage
botulism



It may prove difficult to rule out the possible contribution of hypocalcaemia and many clinicians would elect to administer 400 mL of 40% calcium borogluconate slowly by the intravenous route while monitoring the heart rate.

Link to Article
What treatments would you administer?

Treatment of endotoxic shock (coliform mastitis) includes intravenous injection of a NSAID, repeated 12 hr later.

Hypertonic saline (7.2%) infusion at a dose rate of 5mL/kg (3 L for 600 kg cow) over 5–7 minutes is achieved through a 13-gauge1 10cm jugular catheter.

Access to 30–60 L of warm water, which may contain electrolytes, must be provided although not all cows drink; some clinicians recommend stomach tubing volumes up to 30–40 L.

This cow made a full recovery. Mastitis caused by Streptococcus uberis can present with many of the clinical features of coliform mastitis and it may prove prudent to administer a broad-spectrum antibiotic both parenterally and by intramammary infusion.

Link to Article
What control measures could be adopted?

Control measures include proper hygiene in the calving accommodation.
Premilking teat dipping should be included in the parlour routine.
Cows should be kept standing for 30 minutes after milking to enable complete teat sphincter contraction.
Teat sealants should be used at drying-off.
Use of J5 Escherichia coli core antigen vaccine could be considered.

Link to Article
Comments by Nick Lyons MA VetMB CertCHP MRCVS

1. Minor point, only catheters 12 or 14 gauge are available in the UK.