Central Nervous System Infectious Inflammation
Jump to navigation
Jump to search
Routes of Entry
CNS inflammation is usually the result of infection.

This may be caused by:

Bacteria
Fungi
Protozoa
Viruses

Organisms must first enter the CNS in order to establish infection.

There are several routes of entry that allow this:

Haematogenous entry

This is the most common route.

Entry via the peripheral nerves

Organisms track within the axoplasm of axons.
For example, Listeria monocytogenes.

Penetrating trauma

For example, dehorning wounds, skull fracture or tail docking.

Direct spread of infection

From the nasal cavity, middle ear or paranasal sinuses.
Localisation of Infectious Organisms
After entry, organisms may establish in one or more of four main areas:

Epidural space

Infection tends to manifest as abscess formation.

Subdural space

Manifests as abscess formation.
Fairly uncommon.

Leptomeninges

Causes leptomeningitis, which may be:

Suppurative

The most common form.
Neutrophils are the predominant cell type.
Caused by bacteria

E.g. E. coli and Streptococcus

There are often no gross lesions, but the brain may appear swollen and the meninges opaque.
Usually results in death.

Eosinophilic meningoencephalitis

The classic example of this is porcine salt poisoning, when water has been restricted and the suddenly replenished.
Perivascular eosinophilic cuffing is seen in the cerebrum and meninges.

Lymphocytic
Granulomatous

Caused by fungal diseases and Mycobacteriosis.

CNS parenchyma
Bacterial Infections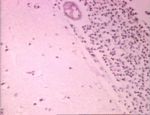 Bacterial infections typically result in abscesses.

These may be single or multiple depending on the route of entry, and vary in size.
They contain a central, liquefied cavity.

There are differences between cerebral abscesses and those occuring elsewhere.

Encapsulation is slow.

This is due to a lack of fibroblasts.
There is therefore less collagen in the capsule.

Astrocytic glial fibers are not as strong as collagen

Other organisms may cause similar infections:

Rickettsial organisms
Spirochates
Viral Infections
Viral infections tend to reach the CNS by haematogenous spread and via peripheral nerves.
There are three hallmark lesions of CNS viral infections:

Neuronal necrosis
Gliosis
Vascular changes

Several types of virus may cause inflammation in the CNS.

Neurotropic, e.g.

Rabies (rhabdovirus)
Aujesky's disease (herpesvirus)
Visna (ovine lentivirus)

Endotheliotropic, e.g.

Infectious canine hepatitis (canine adenovirus)
Classical swine fever (pestivirus)
Equine herpesvirus type 1 (herpes)

Pantropic

Other examples of viruses affecting the CNS:

Distemper
Parvovirus
Parainfluenza
Herpes
FIP
FIV
FeLV
Pseudorabies
Rabies