Chelonian Reproduction - Anatomy & Physiology
Jump to navigation
Jump to search
Male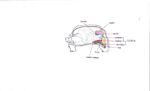 Testes
Long, yellow and oval in shape.
Attached to the cranioventral pole of the kidneys.
Ductus deferens runs alongside ureters to the cloaca.
Phallus
Ventral proctodeum is modified and thickened into a single phallus.
Two pairs of fibrous tissue separated by a central trough.
Cannot be inverted (unlike lizards and snakes).
Highly vascular.
When inserted into the female cloaca it becomes engorged.
Semen is conveyed through the central sulcus.
A retractor muscle returns the phallus back into the cloaca.
Female
Ovary
Paired ovaries lie symmetrically, cranial to the kidneys.
Irregular, sac-like.
Different sized ova that become prominent with mature follicles.
Sperm Storage in the Female Tract
Females in some species can retain sperm in their uterus.
Can successfully fertilize two or more clutches, often several years after copulation.
The Egg
All chelonians are oviparous.
Temperate Species
Lay eggs with soft, flexible, leathery shells.
Can absorb and loose moisture.
Develop more rapidly.
Tropical Species and Land Tortoises
Lay eggs with a hard, brittle shell.
Prevents eater loss.
Develop less rapidly.
Egg hatching depends on climate conditions such as spring warmth and seasonal rains.
Copulation
Courtship and mating is very vocal.

Crying, grunting and barking

Male mounts from the rear.
Internal fertilization