A Tribute to Nick Short
It is with extreme sadness that we share the news that one of WikiVet's founders, Nick Short, has passed away.
Nick was the driving force behind WikiVet and all that it stood for, and it is thanks to his vision, innovative approach and tireless enthusiasm and belief, that WikiVet is available as a free resource to veterinary professionals around the world today. Nick's dedication and passion for veterinary education were truly inspirational and his very many friends, colleagues and students across the world have lost a true gem. He was an exceptional human being: gentle, good-natured, charming, generous and kind: he has left many legacies which will ensure that he will be remembered for many years.
Our thoughts are with his friends and family at this heartbreaking time. A book of remembrance has been set up for anyone that would like to leave a message of condolence for Nick and his family have asked that anyone who wishes to do so make a donation to BipolarUK, a charity that was close to Nick's heart.
Dental Formula - Dog
Jump to navigation
Jump to search
Overview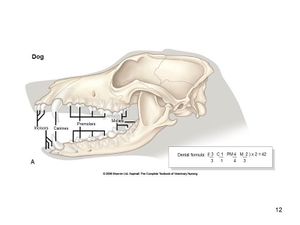 Dogs are toothless at birth. The deciduous teeth are complete and functional within 2 months of birth in most breeds. Permanent teeth are complete and functional by the end of the 7th month.

Formula for deciduous teeth: 2 (i3/3 c1/1 p3/3)
Formula for permanent teeth: 2 (I3/3 C1/1 P4/4 M2/3)
Incisors
Dogs have six incisors in the maxilla and six in the mandible. Incisors have a single root.
Canine Teeth
The canine teeth are large, curved and laterally compressed. Their root is longer than their crown. They have a single root.
Premolars
Premolars are irregular and closely-spaced. They are more complex and larger caudally. The first maxillary premolar has a single root, the second and third maxillary premolar have two roots and the fourth maxillary premolar (carnasial tooth) has three roots.
Molars
The molars are broader than the premolars. The large flat surface is used for grinding. The maxillary molars have three roots each.
Breed Differences
Eruption times differ between breeds so it is difficult to age dogs by their teeth.
This article was expert reviewed by Lisa Milella BVSc DipEVDC MRCVS.

Date reviewed: 9 September 2014
| | |
| --- | --- |
| Endorsed by WALTHAM®, a leading authority in companion animal nutrition and wellbeing for over 50 years and the science institute for Mars Petcare. | |