Glaucoma - Donkey
Jump to navigation
Jump to search
Introduction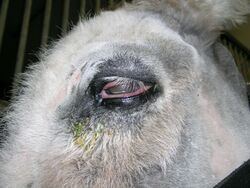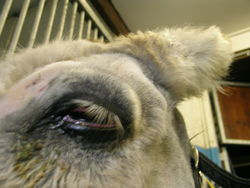 Glaucoma is rarely diagnosed due to lack of tonometers. Early stages often escape diagnosis due to the subtlety of the signs. It is commonly secondary to equine recurrent uveitis.
Clinical Signs and Diagnosis
A swollen globe should always be checked for increased intraocular pressure (IOP). Raised IOP is measured using a tonometer, following topical and local anaesthesia to reduce the pull of the extra ocular muscles.
Signs are:
Corneal oedema
Blindness or visual defects
Dilated, fixed pupil
Lens displacement can cause secondary glaucoma; mydriatics are contraindicated in this situation.
Treatment
Immediate action is required to reduce the IOP. Medical treatment is usually attempted first but response to treatment is variable. Consult an ophthalmology textbook for standard treatments or consult a specialist.
Literature Search


Use these links to find recent scientific publications via CAB Abstracts (log in required unless accessing from a subscribing organisation).


Glaucoma in donkeys or horses publications
References
Grove, V. (2008) Conditions of the eye In Svendsen, E.D., Duncan, J. and Hadrill, D. (2008) The Professional Handbook of the Donkey, 4th edition, Whittet Books, Chapter 11