Pedal Sepsis - Donkey
Jump to navigation
Jump to search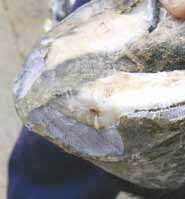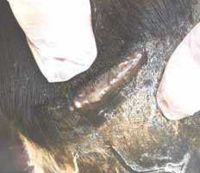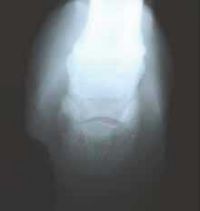 Introduction
The commonest cause of acute lameness, often presented as severe, non-weight-bearing.
Diagnosis
Initially trim the hoof back to normal conformation - see routine trimming
Expose a clear bearing surface free of all but deeper lesions
Explore the entire weight-bearing surface, paying particular attention to the white line area, black marks, especially those adjacent to the sole axially, are suspicious.
Hoof testers are of limited value, digital pressure at the coronary band may illicit a response from a related distal abscess.
Clinical Signs
Abscesses frequently track proximally from the white line, eventually rupturing at the coronary band.
Treatment
Consider resecting the overlying hoof wall to facilitate drainage, but beware injury and prolapse of the underlying sensitive corium. An abaxial sesamoid nerve block will facilitate exploration.
The patient should be moved to food, water and shelter.
Analgesia
Tetanus prophylaxis
Nursing care
Sugardine mix is a cheap and effective final dressing application

Potent antimicrobial action
Promotes drying and hardening of the lesion
Made by mixing Pevidine with granulated sugar to a crumbly mixture
Beware prescribing systemic antibiotics prior to establishing appropriate drainage.
'Hot-tubbing' and flushing lesions with dilute povidone iodine (Pevidine antiseptic solution) are often useful.
Protracted case may progress to involve the distal phalanx or result in extensive necrosis of the laminar corium. These cases require curettage under general anaesthesia. Glue-on plastic shoes are often beneficial and cost-effctive.
Prognosis
Post-operative recovery after curettage may be protracted until the hoof capsule regenerates.
Sub-solar abscesses between the apex of the frog and the toe are often associated with terminal chronic foot disease or chronic laminitis and pedal bone degeneration.
References
Crane, M. (2008) The donkey's foot In Svendsen, E.D., Duncan, J. and Hadrill, D. (2008) The Professional Handbook of the Donkey, 4th edition, Whittet Books, Chapter 10