Ameloblastoma, Central
Jump to navigation
Jump to search

Also known as: Adamantinoma
Introduction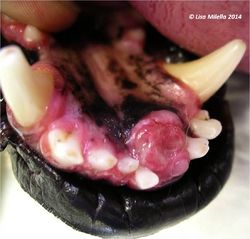 The central or intraosseous ameloblastoma is one of the most common odontogenic tumours, originating from the dental lamina.
Different schools of thought exist on the differentiation between central ameloblastomas originating in bone, and peripheral ameloblastomas (also known as acanthomatous epulis).
This tumour is poorly differentiated and can arise from any part of the gingiva with no specific site predilection.
Central ameloblastomas are locally invasive and destructive to bone, but they are slow growing and do not metastasise.
The tumours have been reported to occur in dogs and cattle and occasionally in cats and horses.
Clinical Signs
Clinical signs of any oral tumours include: halitosis, oral bleeding, dental disruption or loss, facial deformity, salivation and an obvious mass.
Diagnosis
Grossly, the tumour may appear soft and fleshy on its gingival surface, but it may extend much deeper into the bone. It may be solid but often shows a multiple cystic structure.
Teeth at the site may be mobile, moved or absent.
Radiography of the affected area may reveal: loose or absent teeth, decreased radio-opacity of the mandible or maxilla due to local destruction, cystic opacities within the mass.
CT may enable a more detailed examination of the area.
Biopsy of the mass and histopathology will enable a definitive diagnosis: histological appearance of an ameloblastoma is a follicular arrangement of ameloblasts and stellate reticulum cells. There may be occasional keratinisation.
Treatment
As metastasis does not occur, complete resection is indicated, and is usually curative.
Depending on the location of the mass, this may involve various forms of mandibulectomies or maxillectomies to allow wide excision of the tumour and the underlying bone.
If complete resection is not feasible, surgical debulking followed by radiotherapy is also possible.
The prognosis is usually good if complete resection is possible, and animals usually make a good functional recovery with an acceptable cosmetic appearance for the owners.
References
Wiggs, R. (1997) Veterinary dentistry: principles and practice Wiley-Blackwell
Slatter, D. (2002) Textbook of small animal surgery Elsevier Health Sciences
This article was expert reviewed by Lisa Milella BVSc DipEVDC MRCVS.

Date reviewed: 13 August 2014
| | |
| --- | --- |
| Endorsed by WALTHAM®, a leading authority in companion animal nutrition and wellbeing for over 50 years and the science institute for Mars Petcare. | |