Anti-Plaque Agents
Jump to navigation
Jump to search
Introduction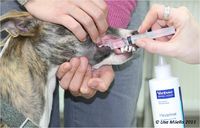 Given the low compliance rate with brushing, other measures are often sought to maintain oral hygiene. Chlorhexidine mouth washes and gels are an excellent second best. Chlorhexidine is a synthetic cationic bisbiguanide antimicrobial agent which is the most effective chemical agent available for the prevention and reduction of plaque accumulation and gingivitis. It has a broad spectrum of activity which means it has a good killing effect on many of the bacteria present in the mouth. The main advantage of chlorhexidine is that it not only binds to the pellicle reducing further accumulation of plaque on the tooth surface, but also kills bacteria in existing plaque. It has an ability to bind to the oral tissues as well as the teeth and some studies have shown that it remains active for up to 12 hours following application. Most other oral antiseptics are washed away by saliva. The concentration that should be used to achieve best results is 0.12%.
Chlorhexidine is a very unstable molecule and if swallowed becomes inactivated. It is therefore well tolerated by most pets and does not have any side effects if swallowed. In some animals chlorhexidine can cause slight staining of the teeth. This is a purely cosmetic issue and the advantages of using chlorhexidine to reduce inflammation in the mouth should outweigh the negative effects.
Application
Mouthwashes can be used by applying them to a toothbrush instead of a toothpaste or by using cotton buds to rub them along the gum margin. They can also be used by syringing into the mouth, although this is not as effective as application directly onto the tooth surface. Chlorhexidine gel can be applied directly on to the tooth surface with a finger if the pet allows.
Formulations
Some products available on the market do contain chlorhexidine but they are either at too low a concentration for the chlorhexidine to be effective, or are in a formulation where the chlorhexidine is not released or is inactivated.
Other mouth washes or gels available containing zinc and ascorbic acid (vitamin C). Zinc is antibacterial and important for a healthy epithelium. Vitamin C is important for the production of collagen, which is the main structural protein in gingival tissue and there is some evidence that it also inhibits plaque formation.
A range of other chemical products are available that are recommended either as a food additive, water additive, or to apply directly to the pets mouth. Unfortunately there are few, if any, scientific studies to show that these products are effective in reducing gingivitis and the onset of periodontitis. Many of these products can be expensive with little or no benefit. Always ask about what clinical data is available to show that the product works before using it.
References
Robinson, J.G.A. (1994) Chlorhexidine gluconate – the solution to dental problems. JVD 12:1:29-30.
Clarke, D.E. (2001) Clinical and microbiological effects of oral zinc ascorbate gel in cats. JVD 18:4:177-183.
This article was written by Lisa Milella BVSc DipEVDC MRCVS.

Date reviewed: 13 August 2014
| | |
| --- | --- |
| Endorsed by WALTHAM®, a leading authority in companion animal nutrition and wellbeing for over 50 years and the science institute for Mars Petcare. | |