Dental Problems - Donkey
Jump to navigation
Jump to search
Introduction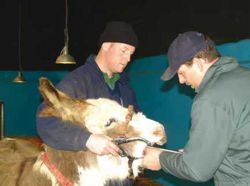 Dental disease is the main oral disorder of equines in the United Kingdom, and is of major importance in general equine practice. Up to 10% of general equine veterinary practice time involves dental-related work. Dental disorders are much more common in older equids (and indeed generally in all species). The donkeys at The Donkey Sanctuary in Devon have an average life expectancy of 27 years – over double that recorded in many developing countries – and it is not surprising that periodontal disease was noted to be 'almost inevitably present' by one author when examining these aged donkeys.
Donkeys may develop dental disorders that could go unnoticed by owners. This may partly be due to the fact that owners do not feel their donkey requires regular dental examinations if they are 'not putting a bit in its mouth', and partly because some owners are not aware that donkeys frequently develop sharp enamel overgrowths or malocclusions simply from the dietary alteration of their domesticated environment. A study of 233 horses found 24% to have dental disorders present that had not been detected by their owners, highlighting how difficult it is to detect dental disease in equids.
Clinical signs
Most common clinical signs are associated with sharp dental overgrowths described in the relevant section.
Other signs of dental disease that always require veterinary treatment include facial swellings, especially of the mandible or of the maxillary bones. The presence of draining sinus tracts (openings from which pus drains) from such swellings may provide further evidence of dental involvement, usually of cheek teeth apical infections. The presence of a unilateral nasal discharge (persistent and purulent, possibly malodorous) may be due to dental sinusitis (inflammation of the maxillary sinus caused by infection of the fourth to sixth maxillary cheek teeth). Less commonly, periapical infection of the first or second (Triadan 06 or 07) or, occasionally, the third (Triadan 08) cheek teeth (see Appendix 7(b)) will discharge medially into the nasal cavity, also causing a chronic, unilateral, purulent nasal discharge, instead of the possible facial swelling and sinus tract.
These signs of dental infection are more likely to occur in younger donkeys that have longer reserve crown remaining in their alveolus. In older donkeys, these dental infections may just drain down the alveolus (socket) (along the shorter periodontal membrane) into the mouth, and therefore infection of the supporting bones of the face and jaws may not occur. As noted, all donkeys with periapical teeth infection or periodontal disease require veterinary treatment.
External trauma, often due to a kick from another animal, can result in swellings of the mandibular and, less frequently, maxillary bones. Less commonly, swellings of these facial bones are due to bone tumours. The presence of abnormally angled or positioned incisor teeth may indicate that a displaced fracture of the jaw is present. Unilateral facial paralysis may cause a facial squint whilst a donkey with bilateral facial paralysis presents with drooping upper and lower lips which may (usually only in the short term) interfere with prehension. All these disorders require veterinary attention.
Examination of the Oral Cavity
Disorders of the Incisor Teeth
Geriatric Donkey Dental Disease
Literature Search


Use these links to find recent scientific publications via CAB Abstracts (log in required unless accessing from a subscribing organisation).


Dental problems in donkeys publications
References
Dacre, I., Dixon, P. and Gosden, L. (2008) Dental problems In Svendsen, E.D., Duncan, J. and Hadrill, D. (2008) The Professional Handbook of the Donkey, 4th edition, Whittet Books, Chapter 5