Oesophageal Groove
Jump to navigation
Jump to search
Introduction
The oesophageal groove is present in newborn ruminants. It is a channel taking milk from the oesophagus into the abomasum, bypassing the rumen, reticulum and omasum.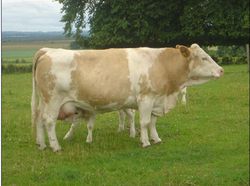 Formation of the Groove
The groove is formed by posture of the animal lifting its head to suckle. Calcium ions are obtained from the milk. A teat or teat-shaped experience aids the formation. The formation of the groove can be overridden, e.g. bucket feeding calves.
Groove Closure
It is an unconditioned reflex when the animal is eager for milk. Water consumption does not usually initiate groove closure. The age when the rumen becomes fully functional and the oseophageal groove closes differs between ruminants; In calves 20 weeks, in lambs 8 weeks, in deer 16 weeks and in goats 12 weeks. It closes by reflex stimulation of the cranial laryngeal branch of the vagus nerve (CN X) (takes 2-5 seconds). With time it becomes a conditioned reflex. The closure consists of two movements, the lips of the groove become firmly opposed and shorten and the lips become inverted and twisted around the axis of the right lip of the groove, drawing the reticular mucosa over the right lip.
Function in the Adult Ruminant
The groove is stimulated in adult ruminants by ADH. The groove can also be closed in adult ruminants by the administration of drugs, e.g copper sulphate, which is of use to prevent drugs becoming diluted in the forechambers. Instead, it directs the drugs directly to the abomasum.
Histology
The floor of the groove is smooth and pale lined with stratified squamous epithelium.
Webinars
The objective of this webinar is to delve into the complicated world of bovine fertility. We will consider both beef and dairy cattle (bulls, cows and heifers) and how physiology, management, and h...
Paul Wood 2022-06-08 15:53:38
This webinar will focus on the challenges which farmer's face in terms of achieving mortality, morbidity and growth rates and how veterinary surgeons can help farmers achieve their goals,...
Ginny Sherwin 2021-10-28 13:44:52
This webinar will explore the key areas to analyse when discussing the fertility performance of a dairy herd. It will also discuss the key areas to investigate when considering poor performance of...
Ginny Sherwin 2021-10-28 13:38:57
UK goat numbers are rising and the general practitioner is increasingly likely to be presented with a goat case in practice. This session aims to build the confidence of the general practitioner in...
Ben Dustan 2021-05-06 10:53:27
An introduction to Dairy Sheep Production: An overview of breeds, yields and productsFertility and youngstock managementMilking parlour, udder health & data analysisProduction limi...
Yoav Alony Gilboa 2021-03-11 15:42:00
Heat stress in dairy cows and calves is not always properly understood. As a result, adequate measures are not always taken or not taken in time. In this lecture, the occurrence of heat stress, the...
Jos Noordhuizen 2021-02-26 08:27:22
La salud de las ubres de las vacas lecheras es uno de los ámbitos de la ganadería que se ha tratado ampliamente en la literatura práctica y de investigaci&oacut...
Jos Noordhuizen 2021-02-25 08:47:07
Las observaciones (seguimiento de los signos) en las vacas, los terneros y la explotación son fáciles de realizar y aportan un tesoro de información. Este enfoque t...
Jos Noordhuizen 2021-02-22 08:00:46
Observations (monitoring of signals) on cows, calves and the farm are easy to do and yield a treasure of information. This SWOT-like approach leads to Action Plans for improving cattle health and f...
Jos Noordhuizen 2021-02-22 07:55:38
Udder health in dairy cows is one of the farming domains which has been amply addressed in practical and research literature since many decades. The division between infectious agents transferred b...
Jos Noordhuizen 2021-02-18 15:07:21