A Tribute to Nick Short
It is with extreme sadness that we share the news that one of WikiVet's founders, Nick Short, has passed away.
Nick was the driving force behind WikiVet and all that it stood for, and it is thanks to his vision, innovative approach and tireless enthusiasm and belief, that WikiVet is available as a free resource to veterinary professionals around the world today. Nick's dedication and passion for veterinary education were truly inspirational and his very many friends, colleagues and students across the world have lost a true gem. He was an exceptional human being: gentle, good-natured, charming, generous and kind: he has left many legacies which will ensure that he will be remembered for many years.
Our thoughts are with his friends and family at this heartbreaking time. A book of remembrance has been set up for anyone that would like to leave a message of condolence for Nick and his family have asked that anyone who wishes to do so make a donation to BipolarUK, a charity that was close to Nick's heart.
Trichomonas gallinae
Jump to navigation
Jump to search
Trichomonas gallinae
Kingdom
Protista
Phylum
Protozoa
Order
Trichomonadida
Family
Trichomonadidae
Genus
Trichomonas
Species
Trichomonas gallinae
Introduction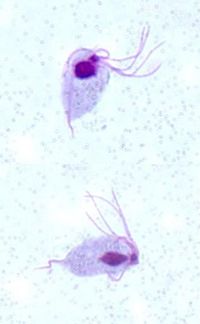 Trichomonas gallinae is the protozoal pathogen responsible for Avian Trichomonosis.
The parasite is identifiable microscopically by its four anterior flagellae and well developed undulating membrane on one side. T. gallinae has no posterior flagellum. Its body is divided by an axostyle.
The ellipsoidal or ovoid nucleus of the parasite is usually found in the posterior aspect of the organism.
T. gallinae requires sugars, starch and glycogen from host cells to survive and replicate.
Transmission
Trichomonas gallinae is present worldwide in wild birds particularly the pigeon and other Columbids. This trichomonad is also common in turkeys as well as in chickens and pet birds.
Transmission between pigeons occurs orally during feeding and mating behaviour. Survival in tap water for short periods ensures that the drinking water can be a source of infection for domestic fowl.
Transmission to domestic chickens and turkeys is achieved through contaminated water troughs that have been visited by wild birds.
Disease
T. gallinae causes "cankers", yellow, necrotic lesions and plaques in the gastrointestinal tract of birds, particularly in the crop and oesophagus. The upper digestive tract may be completely occluded, with large quantities of fluid accumulating in the crop. Among the rarer sites of infection are the spleen, kidney, upper respiratory tract and bone marrow. For more information see avian trichomoniasis.
References
This article has been expert reviewed by Dr Tiana Tasca and Dr De Carli.

Date reviewed: 30 August 2011