Bearded Dragon
Jump to navigation
Jump to search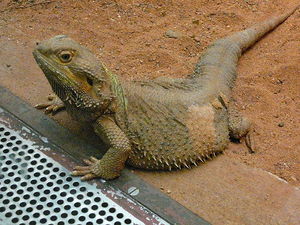 Scientific name: Pogona vitticeps
Description
Various colour patterns are recognised. The typical one is light to dark brown on the dorsal surface often with lighter coloured stripes and bands. The underside is cream coloured.
They have a blunt arrow-shaped head that becomes proportionately wider in mature males by comparison to females. Scales along the skin of the throat and the side of the head and body have specialised into spiny points; the skin on the underside of the throat can be extended creating a beard-like display (this can vary from a slight extension of the beard to a full extension accompanied by an open mouth display of the lining of the mouth, which may be a bright sulphur yellow). Juveniles (which weigh as little as 2.1g at hatching) are often strikingly banded and may have an orange stripe near their eyes. As they mature this pattern becomes less distinct. Sexually mature males develop enlarged preanal and femoral pores. Young bearded dragons are difficult to sex since they lack the enlargements of the pores.
In the breeding season the throats of males darken to almost black and they show an increase in aggressive behaviour.
Range
Australia and New Guinea; arid, rocky, semi-desert regions and arid open woodlands.
Diet
Omnivore
Bearded dragons are voracious eaters of invertebrates and small vertebrates with plant foods comprising about 20 percent of their diet. Invertebrates should be gut-loaded for several days prior to offering. Adults should be offered adult crickets and king mealworms every one to two days. Pink mice can be offered once weekly. Offer soft plant matter such as greens, fruits, shredded or torn mixed vegetables and flowers every other feeding (e.g. green beans, orange-fleshed squash, carrots, escarole, parsley, mustard, dandelion and collard greens, raspberries, mango, and cantaloupe). As adult beard dragons will eat animals smaller than themselves hatchlings should not be housed with juveniles or adults.
Juveniles should be offered small crickets two to three times a day, offering only what the animals can eat at one feeding. Every other day offer a small amount of finely chopped kale and chopped mixed vegetables (corn, carrots, green beans and peas).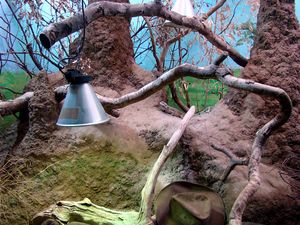 Enclosure
The minimum size of enclosure for keeping adult bearded dragons is 180 x 45 x 45 cm. Sand layered thickly to a depth of about 6-10 cm on the bottom of the tank is ideal. Branches for climbing and basking are essential since bearded dragons are semi-arboreal. In addition, rocky, ceramic or wooden caves should be made available and perhaps even some non-prickly succulents. A shower is often enjoyed: a light misting with water will also help keep the skin humidified to make it easier to shed. The tank, however, should never be damp. Clean water should be offered in a shallow water dish.
Temperature
Daytime air temperatures in the vivarium should be 23-29ºC, with a basking area up to 42ºC. Night-time temperatures should drop no lower than 18ºC.
Literature Search


Use these links to find recent scientific publications via CAB Abstracts (log in required unless accessing from a subscribing organisation).


Bearded Dragon (Pogona vitticeps) publications
Dragons: from medieval myth to modern medical marvel. Coke, R. L.; The North American Veterinary Conference, Gainesville, USA, Small animal and exotics. Proceedings of the North American Veterinary Conference, Volume 22, Orlando, Florida, USA, 2008, 2008, pp 1733-1735, 10 ref. - Full Text Article
Constipation in bearded dragons. Wright, K.; The North American Veterinary Conference, Gainesville, USA, Small animal and exotics. Proceedings of the North American Veterinary Conference, Volume 22, Orlando, Florida, USA, 2008, 2008, pp 1799 - Full Text Article
Biology and medicine of bearded dragons. Mitchell, M. A.; The North American Veterinary Conference, Gainesville, USA, Small animal and exotics. Proceedings of the North American Veterinary Conference, Volume 21, Orlando, Florida, USA, 2007, 2007, pp 1592-1594 - Full Text Article
A retrospective review of the diseases in family Agamidae (Agamas, bearded dragons, frilled dragon, water dragons). Reavill, D.; Schmidt, R.; Baer, C. K.; Association of Reptilian and Amphibian Veterinarians, Chester Heights, USA, Proceedings of the Association of Reptilian and Amphibian Veterinarians, 16th Annual Conference, Milwaukee, Wisconsin, USA, 8-15 August, 2009, 2009, pp 111-116, 7 ref. - Full Text Article