Dental Recording
Jump to navigation
Jump to search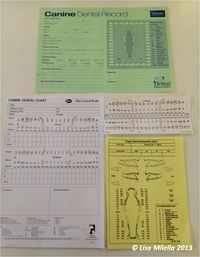 The information resulting from an oral examination and any treatment performed needs to be accurately recorded.

A completed dental record is a legal document that can be referred to:
During treatment – to ensure that all treatment is performed
At post-treatment discharge – to inform the owner of the condition of the teeth and of the treatment performed
At any time or by any person in the practice – for information related to the mouth at a specific date.

A dental chart is a diagrammatic representation of the dentition, where information (findings and treatment) can be entered in a pictorial and/or notational form. Various different charts are available. A Dentalabel® is one example of a dental chart. It provides a simple way of recording most findings and treatments. However, it is only a chart and needs to be supplemented by clinical notes, radiographs, etc. to form a complete dental record.

Most charts make use of the modified Triadan system [1] where each tooth is allocated a three-digit number. The first number denotes the quadrant of the mouth and whether the tooth is permanent or deciduous. The second and third digits denote the tooth itself. In dogs the teeth are numbered consecutively from the midline whereas in cats, some numbers are skipped as not all teeth are present. Canine teeth are always numbered 04 and molars are always numbered 09.


Modified Triadan System – Quadrant Numbering
Permanent Dentition

Right upper = 1
Left upper = 2
Right lower = 4
Left lower = 3

Deciduous Dentition

Right upper = 5
Left upper = 6
Right lower = 8
Left lower = 7
Dental Record Sheets
Various charts are available and the particular choice of chart used depends on operator preference. A complete dental record is required for diagnostic and therapeutic purposes, as well as for medico-legal reasons.



Also see:
References
↑ Floyd MR. (1991) The modified Triadan system: nomenclature for veterinary dentistry. J Vet Dent 1991;8(4):18–19.
This article was written by Lisa Milella BVSc DipEVDC MRCVS.

Date reviewed: 21 October 2014
| | |
| --- | --- |
| Endorsed by WALTHAM®, a leading authority in companion animal nutrition and wellbeing for over 50 years and the science institute for Mars Petcare. | |