Enzootic Pneumonia - Pigs
Jump to navigation
Jump to search
Also Known As: EP — Mycoplasma hyopneumoniae infection
Caused By: Mycoplasma hyopneumoniae
Introduction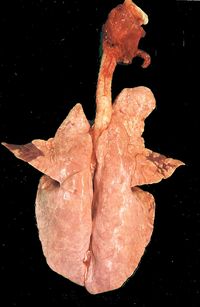 Enzootic pneumonia in pigs is a respiratory disease caused by Mycoplasma hyopneumoniae. The disease is associated with a significant loss of production in intensively reared pigs. The organism alone causes a mild disease with characteristic lesions but it also enables other pathogens , particularly Pasteurella multocida to cause secondary pneumonia which can be more severe. Streptococcus suis, Haemophilus parasuis and Actinobacillus pleuropneumoniae are other pathogens that may be more likely to cause disease when enzootic pneumonia is present. Enzootic pneumonia is frequently a component of Porcine Respiratory Disease Complex, when combined with other agents such as PRRS, Porcine Circovirus 2 and/or Swine Influenza and bacteria.
Enzootic pneumonia is not zoonotic.
Distribution
Worldwide. M. hyopneumoniae is ubiquitous in all significant pig producing regions globally.
Transmission is mainly from infected animals. It can be horizontal between penmates or vertical from sows. [1] It can also be airborne. [2]
Due to the fastidious nature of the organism, transmission between herds across any great distance is unusual.
Signalment
Only pigs are affected.
Although all ages can be affected, due to the slow growing nature of M. hyopneumoniae, clinical disease is most commonly seen at finishing/fattening, at >8 weeks of age.
Disease is more common on units that have an on-site finishing system due to the timing of disease and shedding of the bacterium.
Clinical Signs
Enzootic pneumonia causes coughing which may last several weeks. When secondary bacterial infection complicates the mycoplasma infection, there are often other respiratory signs such as raised respiratory rate.
Although signs are unusual in pigs <6-8 weeks of age, concurrent infection with PRRS can cause earlier clinical disease.
Diagnosis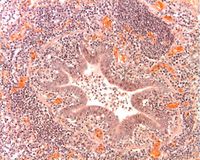 EP is often suspected if coughing pigs are present at the appropriate age.
Culture and isolation are the gold standard but are technically difficult and may take two to three weeks. See Mycoplasma hyopneumoniae for more details.
PCR can confirm the presence of the bacterium in the nasal cavity, [3] or from lung tissue or bronchial washings. The latter two are the most reliable materials. Nested PCR requires very few organisms to be present for a positive result.
Antibody detection, using indirect ELISA or a blocking ELISA is the most effective and commonly used test for detecting antibodies to M. hyopneumoniae. Sensitivity is low but specificity high.
Fluorescent antibody tests (FAT) or Immunohistochemistry (IHC) can be performed to detect M. hyopneumoniae in fixed or frozen tissue samples. It is essential that ciliated epithelial cells are included for this type of analysis.
At slaughter or post-mortem, lesions are darkened, consolidated areas, particularly in the apical and cardiac lobes. Occasionally, these extend into the diaphragmatic lobes. Lesions become more widespread as disease progresses. Lymph node enlargement and catarrhal exudate often accompany these pathological changes. Microscopically, there is a lymphocytic infiltration around the bronchioles and blood vessels known as cuffing (peribronchiolar lymphoid hyperplasia).
Severity of the microscopic lesions and increasing neutrophil presence is seen with secondary pathogens. None of these pathological changes are specific to EP.
Treatment
Antibiotics are often used to control the disease. Typically this may include tiamulin, chlortetracycline or tilmicosin in feed.
Resistance to tetracyclines has been reported. [4]
Control
Vaccination is the most effective and common method of control of clinical disease, reducing severity and transmission of EP. Perhaps most importantly, evidence suggests that they improve efficiency and productivity as improved feed conversion and shorter time to slaughter weight. Vaccines consist of whole inactivated M. hyopneumoniae with either alhydrogel or an oil adjuvant.
Eradication strategies have been employed using partial depopulation and preventing entry of animals under 10 months of age. These have been successful in various European countries. [1] Even after successful eradication, reinfection is still common.
References
This article has been expert reviewed by Prof Andrew Rycroft BSc (Hons), PhD, C.Biol., FSB, FRCPath

Date reviewed: August, 03 2011