Legal Definitions of Pet Food
Jump to navigation
Jump to search
Introduction
From a legal point of view, feed materials, compound (US: formula) feed, additives and premixtures have to be differentiated. A further split of compound feed into complete or complementary pet food (US: supplement) is done based on the nutrient content and the ability to fulfil the nutritional requirements except for water. Additional categories can be defined depending on the intended purpose of the product, e.g. dietetic petfood or milk replacer.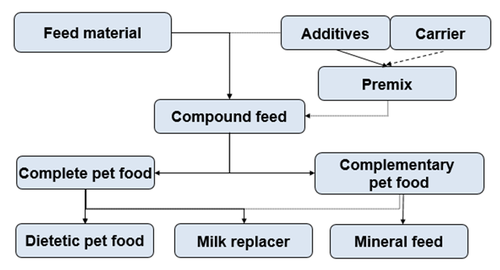 Feed Materials
Products of vegetable or animal origin, which are consumed by animals and contribute to energy and/or nutrients to the animal's diet. Official names and definitions of permitted feed ingredients are given in the AAFCO Official Publication[1] for the US and in the European Feed Catalogue[2] for Europe, respectively. For declaration purposes, feed materials are allocated to specific categories[3] and can be collectively declared as a group, e.g. oils & fats.
Feed for Pets
In the designation of feed for pets the expression 'pet food' is used.
Compound Feed
Compound feed consists of at least two feed materials, with or without feed additives.
Complete Pet Food
Pet foods providing all the nutrients in the amounts and proportions animals need are considered complete. Only complete pet foods are suitable for daily feeding without adding further food products except water. Nutritional standards for pet foods are provided by AAFCO in the United States and by FEDIAF[4] in Europe. Nutritional standards for pet foods already established or under development in countries outside the USA and Europe are largely based on AAFCO or FEDIAF recommendations.
Complementary Pet Food
Complementary pet foods are designed to be only a part of the diet and they do not meet the known nutritional requirements when fed alone. They must be used in combination with additional food types to fulfil daily requirements.
Therapeutic/Dietetic Pet Food
Therapeutic pet foods are products with a specific nutritional profile intended for therapeutic purposes such as support of cardiac, kidney or liver function. Due to the specific intended use and functionality, products have to comply with particular nutritional characteristics and requirements for their declaration. In Europe, the range of application is laid down in a specific regulation[5]. In other regions, products typically have to be individually registered by the manufacturer and approved by the local veterinary authorities before they can be put on the market.
Medicated Feed
Medicated feed is feed/pet food that (in contrast to dietetic pet food) contains veterinary drugs with a view either to restoring, correcting or modifying physiological functions by exerting a pharmacological, immunological or metabolic action, or to making a medical diagnosis.
Moisture Content Classification
By longstanding industry definition, manufactured pet food can be classified based on moisture content as follows:
Dry food: ≤ 14% moisture
Semi-moist food: > 14% < 60% moisture
Wet food: ≥ 60% moisture
References
↑ AAFCO (2015) Official Publication, Champaign (IL), Association of Feed Control Officials
↑ Commission Regulation (EU) No 68/2013 of 16 January 2013 on the Catalogue of Feed Materials [2013] OJ L 29/1
↑ Commission Directive 82/475 /EEC of 23 June 1982 laying down the categories of ingredients which may be used for the purposes of labelling compound feedingstuffs for pet animals [1982] OJ L 213/27
↑ FEDIAF (2014) Nutritional Guidelines for Complete and Complementary Pet Food for Cats and Dogs. Brussels: FEDIAF - European Pet Food Industry Federation
↑ Commission Regulation (EU) No 5/2014 of 6 January 2014 amending Directive 2008/38/EC establishing a list of intended uses of animal feedingstuffs for particular nutritional purposes OJ L 2/3
| | |
| --- | --- |
| Endorsed by Mars Petcare, the world's leading pet nutrition and health care business that strives to make A Better World for Pets every day. | |