Luxated and Avulsed Teeth
Jump to navigation
Jump to search
Introduction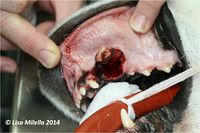 Occasionally, veterinarians are presented with luxated or avulsed teeth.
Luxated = partly dislocated from the socket. The most common luxation is a lateral luxation together with fracture of the alveolar bone plate.
Avulsed = completely removed/pulled out of the socket

In these cases of trauma, the blood supply to the tooth is affected, resulting in pulp necrosis.
Injured teeth will require treatment - either extraction or replacement and stabilization, and once the tooth has re-attached, endodontic treatment will be required.
Luxated and Avulsed Teeth Learning Resources

Vetstream
To reach the Vetstream content, please select
Canis, Felis, Lapis or Equis
This article was written by Lisa Milella BVSc DipEVDC MRCVS.

Date reviewed: 13 August 2014
| | |
| --- | --- |
| Endorsed by WALTHAM®, a leading authority in companion animal nutrition and wellbeing for over 50 years and the science institute for Mars Petcare. | |