Snake Vesicular Dermatitis
Jump to navigation
Jump to search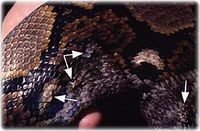 Introduction
Vesicular dermatitis (blister disease) is associated with inappropriate environment. An overly moist environment and poor ventilation, lead to sterile skin lesions that later become infected. If left untreated septicaemia may develop in only a few days in small snakes.
Examination
Natracine snakes are predisposed to developing vesicular dermatitis. History usually reveals inappropriately moist caging. Physical examination reveals numerous blisters. If the fluid is clear, it may be sterile. If not, there may have been progression of the disease to a secondary bacterial infection.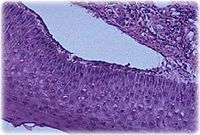 Diagnostics
Diagnosis of vesicular dermatitis is on history, physical examination and diagnostic aids. Initially microscopic examination of the fluid will show only a cellular exudate devoid of bacteria. Bacteriology initially may be sterile but later a variety of bacteria will be cultured. Sensitivity is essential especially if septicaemia is suspected.
Therapy
Moving to a well-ventilated cage with a dry substrate is the first step. This may often be curative in the early stage of the disease. Appropriate antibiotics topically and parenterally are extremely important either prophylactically or as a treatment for any secondary bacterial dermatitis.
Prevention
Prevention of vesicular dermatitis is similar to many diseases of reptiles - correct husbandry!
For more information on appropriate husbandry, see Snake Housing.