Snake Housing
Jump to navigation
Jump to search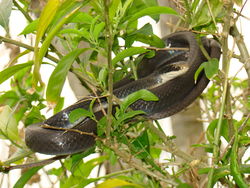 Introduction to housing
Captive husbandry of snakes presents several basic problems. The biology of most free-living snakes has not been recorded and it may be impossible to match nature in a captive situation. Improper husbandry is the most important cause of disease in snakes since it compromises a snake's immune system and leads to opportunistic infections. Important aspects of snake husbandry include the cage environment, nutrition and water.
Housing Considerations
Considerations for cages include size, shape, security, ease of cleaning, ease of access and positioning.
Temperature
All snakes are ectothermic and each species has a preferred optimum temperature zone (POTZ). The ambient cage temperature should be at the lower end of a POTZ. The cage should also have a "hotspot" at the upper end of the POTZ so that a temperature gradient is established. This is essential since it allows a snake to choose the temperature appropriate for its present metabolic state. A night temperature drop of about 5°C is adequate.
Heating
The primary heat source can be central heating, heat tapes or pads, or radiant heat. A secondary heat source for a "hotspot" is then positioned at one end of the cage. Lights should not be used as heat sources since this will interfere with the photoperiod.
Lighting
Lighting requirements for captive snakes are ill-defined. Snakes satisfy their vitamin D3 requirements from their diet but many species benefit from access to unfiltered sunlight (while still remaining withing their POTZ). The length of photoperiod may be important for temperate species which require timers for the lighting.
Suitable Photoperiods

| Species | Summer (hrs) | Winter (hrs) | Spring/Autumn (hrs) |
| --- | --- | --- | --- |
| Tropical | 13 | 11 | 12 |
| Temperate | 15 | 9 | 12 |
Full-spectrum bulbs are sold with a numeric designation. 5.0 bulbs appear sufficient to stimulate the necessary previtamin D synthesis in lizards and are also considered sufficient for snakes. Bulbs should be placed no further than 18 inches from the animal to ensure maximum UVB exposure. Glass refracts UVB radiation which makes glass lids an inappropriate housing feature. Full-spectrum bulbs usually have an 8 to 14 month activity period.
Substrate
The substrate should be simple to allow easy cleaning. Newspaper is perhaps the best substrate as it is disposable, cheap and can be used for the majority of species. Other commonly used substrates include carpet, Astroturf, pine and ash wood shavings. Shavings of woods such as cedar, which are high in aromatic compounds, should be avoided because they are toxic. Items that can be ingested such as small stones, gravel and corn cob bedding, should also be avoided. Peat and gravel look attractive but hide urates and faeces. Fossorial (burrowing) species such as sand boas require a substrate (such as sand) in which they can burrow. Leaf litter is also a good alternative. Imported materials should be inspected closely to avoid the introduction of unwanted pests, such as insects.
Humidity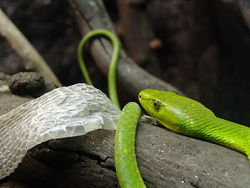 A relative humiditiy of 50-70% is adequate for most species but some species have more specific requirements. Desert species require 20-30% while a higher humidity is required for rainforest species (for example the emerald tree boa). The humidity can be increased by spraying the environment and by adding water-retaining substances such as moss, peat or vermiculite.
Inadequate humidity (for example excessive air conditioning) leads to stress, dehydration and dysecdysis. Excessive humidity (such as inadequate cage ventilation) leads to skin infections. A humidity chamber (a container filled with damp tissue paper) can be provided for ecdysis. The problems associated with low humidity can sometimes be overcome by daily water baths for 1-2 hours.
Water
Clean fresh water in a bowl large enough to permit immersion/bathing should be available at all times and is essential for ecdydsis (and to prevent dysecdysis). At a mimimum the water should be changed and the bowl cleaned daily and preferably after the snake soaks. The feeding area should not be adjacent to the water. Some species require drip systems and spraying to accept water. Many pit vipers will not drink from containers and emerald tree boas prefer to drink when water collects in their body coils following spraying.
Aquatic and semiaquatic species require special attention and water quality control is essential. Ideally a filtration mechanism prevents the water from becoming stagnant. Undergravel and sand filters should be used in addition to external filters. Commercially available salts for marine fish tanks can be used for sea snakes and other marine snakes.
Branches
Arboreal species require branches in a high tank to reflect their free-living environment. These branches must be strong enough to support the weight of the snakes and be securely propped to prevent accidents. Only non-resinous oak, fruit or other hardwoods should be used.
Visual security
Cage furniture should be kept to a minimum but a hiding place is essential. Terrestrial snakes prefer to crawl into small holes or crevices when at rest, and many will not feed if a hiding area is not provided. Silk trees or plants can offer visual security and require minimal maintenance. They help to augment the relative humidity if frequently misted and aid in a snake's ability to camoflage itself.
Snake Housing Learning Resources

Full Text Articles
Full text articles available from CAB Abstract
(CABI log in required)
Hot or cold: the use of thermography in reptile husbandry and management. Fleming, G. J.; The North American Veterinary Conference, Gainesville, USA, Small animal and exotics. Proceedings of the North American Veterinary Conference, Orlando, Florida, USA, 17-21 January, 2009, 2009, pp 1781-1782, 13 ref.