Taenia taeniaeformis
Jump to navigation
Jump to search
Also known as: Hydatigera taeniaeformis — Taenia crassicollis — Cysticercus fasciolaris — Strobilocercus fasciolaris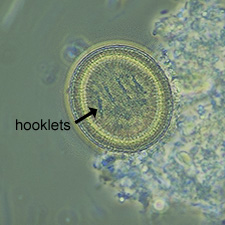 Hosts
Intermediate host: Mice, rats, rabbits, and squirrels
Definitive host: Cats, and foxes
Identification
The adult is around 70 cm, and has a large scolex.
Life Cycle
The eggs are passed in faeces, which are ingested by the intermediate host. The metacestode matures in the intermediate host, before being ingested by the definitive host.
Diagnosis
Observation of square shaped proglottids in the feces, as well as identification of Taenia-like eggs on fecal floatation. Taenia eggs look the same as Echinococcus eggs, and must be differentiated by proglottids and other signs.
Treatment
Praziquantel or Epsiprantel at labeled dose.
References
Taylor, M.A, Coop, R.L., Wall,R.L. (2007) Veterinary Parasitology Blackwell Publishing