Dental Extraction Power Equipment - Small Animal
Jump to navigation
Jump to search
Micromotor Unit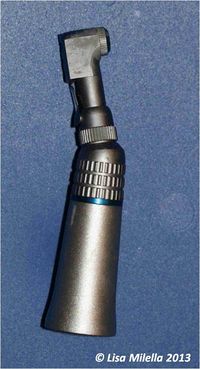 A micromotor unit is a small electric motor that connects to an e-fitting handpiece. Micromotors can be used for polishing teeth as well as sectioning them. The control box has a forward and reverse switch and a speed control knob. Micromotor units do not generally include water cooling of the bur and an external source (e.g. assistant applying coolant continuously to the tissues) is required to prevent thermal damage. For sectioning teeth, the micromotor should be set at maximum speed (30 000 rpm).
Compressed Air Driven Unit
The basic compressed air driven unit consists of a high-speed hand piece with water cooling, a slow-speed hand piece (with or without water cooling) and a combination air/water syringe, driven by a air compressor.

The high-speed hand piece facilitates extraction by allowing easy sectioning of multi-rooted teeth and bone prior to extraction. It allows accurate application of coolant water to the end of the drill tip. The turbine spins at about 300000-400000 rpm. It is designed for high speed and low-torque and should be used with the foot pedal fully depressed to achieve this. The cartridge in the head of the handpiece is driven by compressed air. The cartridge is a turbine, mounted on bearings around a clutch mechanism that holds the bur in place. Investing in a high-speed hand piece with fibre-optic light is strongly recommended.

The slow-speed hand pieces are driven by an air motor, driven by the compressor. Each handpiece can be adjusted for direction (forward and reverse) and speed. The air motor speed has a maximum of 25000 - 30000 rpm. The slow speed handpiece accommodates the contra-angle hand piece used for polishing the teeth as well as straight or nose-cone handpieces. Contra-angle handpieces are slightly offset, and have a latch grip mechanism to hold burs or polishing heads/brushes. Contra-angle handpieces most commonly used in veterinary practice are 1:1 meaning that the output speed is the same as the air motor speed. Speed increasing handpieces are available and are better for sectioning teeth, whilst speed reducing handpieces which are also available are more commonly used for restorative dental procedures.

The three-way syringe can deliver either a stream of water or a spray of water and air, or air only. It is used to irrigate/lavage the mouth (water or water/air spray) and to dry the teeth (air only). Suction is also available with some units.

Investing in a compressed air driven unit from the outset is recommended. The high-speed hand piece greatly facilitates tooth sectioning and the three-way syringe (for lavage and drying) will aid in the removal of debris and improve visibility during examination and any procedure.
Burs
Dental burs are made of a variety of materials and are available in a range of sizes and shapes. For veterinary use only a few patterns and sizes are actually needed.

The cutting surface of the bur is made of stainless steel, tungsten-carbide steel or diamond. Tungsten carbide and stainless steel types have cutting blades. The fastest bur is a tungsten carbide bur. Diamond burs have a coating of tiny diamonds embedded in resin on the bur shank. As the diamonds are lost, the bur becomes less efficient at cutting.

Shapes of Burs:
The most commonly used shapes in veterinary dentistry are tapered fissure burs and round burs. Fissure burs can be either cylindrical or tapered with cutting surfaces on the side of the bur. Round burs are ball shape and have cutting surfaces around the whole surface of the ball. Other shapes are available and include pear shaped, inverted cones amongst others. Burs suitable for use in a high speed handpiece are called friction grip burs (FG). Latch grip (RA) burs are suitable for contra-angle handpieces and HP burs are suitable for straight handpieces.
Burs used in high speed handpieces are typically used for sectioning the teeth during extraction, for crown preparation or for endodontic access into the tooth.
Latch grip burs are used in slow speed handpieces and are used for bone removal (with coolant) or finer, more controlled cavity preparations.
HP burs are used on a straight nose cone hand piece - the most common bur used for removal of tooth substance for crown height reduction in rabbits, typically a small round or fissure bur or an acrylic trimmer as illustrated.
Dental Extraction Power Equipment - Small Animal Learning Resources

Vetstream
To reach the Vetstream content, please select
Canis, Felis, Lapis or Equis
This article was written by Lisa Milella BVSc DipEVDC MRCVS.

Date reviewed: 13 August 2014
| | |
| --- | --- |
| Endorsed by WALTHAM®, a leading authority in companion animal nutrition and wellbeing for over 50 years and the science institute for Mars Petcare. | |