Feline Miliary Dermatitis
Jump to navigation
Jump to search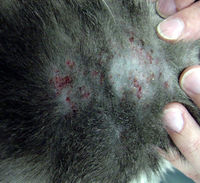 Introduction
Feline Miliary Dermatitis (FMD) is a multifactorial disease of cats characterised by multiple papulocrustous lesions of the skin. The term "miliary" is commonly used to describe the millet-seed like appearance of the typical lesions of miliary dermatitis. Miliary dermatitis is a manifestation of an underlying pruritic skin disease the most common of which is flea allergic dermatitis (FAD) which accounts for approximately 85 % of cases. It is also seen in cases of allergic skin disease such as atopic dermatitis and food allergy and ectoparasitism such as cheyletiellosis, trombiculidiasis and pediculosis. Less commonly it is seen as a presentation of dermatophytosis and bacterial folliculitis.
Miliary Dermatitis should be thought of as a descriptive term rather than a diagnosis.
Signalment
There is no age, breed or sex predilection for the condition. The condition occurs in cats.
History
Affected cats will present with a history of variable pruritus and alopecia of the trunk and neck. In cases with an underlying flea allergic dermatitis there may be a history of a flea infestation.
Clinical Signs
Cats present with small papulocrustous lesions of the skin often on the dorsal neck and trunk which feel like small 'millet seeds' when the coat is groomed. The level of pruritus is variable and may be associated with traumatic alopecia which often has a symmetrical pattern. Eosinophilic plaques may occur concurrently.
Laboratory tests
Laboratory tests are aimed at discovering the underlying cause. Skin scrapes, hair plucks and coat brushings examined microscopically may show evidence of ectoparasitism. Dermatophyte culture or microscopy can be used if dermatophytosis is suspected. Traumatic alopecia can be differentiated from other causes of alopecia via microscopic examination of the hair shaft revealing split or broken distal ends.
Treatments
Treatment is dependent on the underlying cause. As flea allergic dermatitis is the most common underlying cause flea treatment is often initiated whilst investigating other possible causes.
References
Merck & Co (2008) The Merck Veterinary Manual (Eighth Edition) Merial
Tilley, L.P. and Smith, F.W.K.(2004) The 5-minute Veterinary Consult (Third edition) Lippincott, Williams & Wilkins.
Foster, A, and Foll, C. (2003) BSAVA small animal dermatology (second edition) British Small Animal Veterinary Association