Lizard Mites
Jump to navigation
Jump to search
Introduction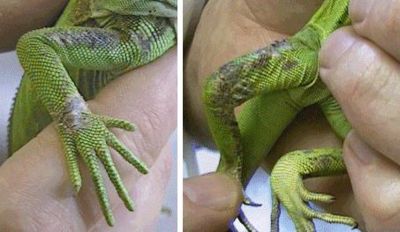 Ectoparasites are a common problem in captive lizards. Mite infestation may result in a pigmented 'black' dermatitis commonly known as "black skin disease", but ticks are rare. As the mites are usually quite ubiquitous, snake mites can infest lizards and vice versa.
Hirstiella trombidiiformis is the common lizard mite, and it can be differentiated from another common mite, Ophionyssus natricis by the presence of a pointed protruberance at the caudal end of its abdomen.
Clinical Signs and Diagnosis
The ectoparasites can usually be found in the axillae and stifle skinfolds of lizards. The tissue damage created by the mite causes swelling, irritation, erythema and even secondary bacterial infection; the skin appears as raised areas of colour change on the skin, generally on the ventral abdomen and limbs. In more serious cases, mite infestation can lead to dysecdysis, anaemia and transmission of bacterial and viral agents (e.g. Aeromonas hydrophila septicaemia, haemoparasites and inclusion body disease).
Individual mites are visible on magnification. They can be seen moving on the host, sometimes in small numbers. They can also be found drowned in the affected animal's water dishes.
Treatment
The animal and its environment need to be treated as a big part of the parasite's life cycle is spent off the host.
Initially, a bath in warm water will rid the animal of some of the mites. Alternatively, a cotton bud sprayed with an insecticide (licensed for use in puppies and kittens) can be used to remove groups of mites.
Oral or subcutaneous ivermectin repeated in 2 weeks can be given; the environment should also be sprayed with ivermectin diluted in water.
Topical insecticides (e.g. Frontline) can be applied using a sponge.
Prevention
Preventive medicine including quarantine and appropriate husbandry.
Lizard Mites Learning Resources

Flashcards
Test your knowledge using flashcard type questions
Reptiles and Amphibians Q&A 21

Full Text Articles
Full text articles available from CAB Abstract
(CABI log in required)
Reptile ectoparasites - how to kill those little buggers. Greek, T.; The North American Veterinary Conference, Gainesville, USA, Small animal and exotics. Proceedings of the North American Veterinary Conference, Orlando, Florida, USA, 16-20 January 2010, 2010, pp 1676-1677 - Full Text Article

Reptile parasitology: what is that and how do I treat that? Wright, K.; The North American Veterinary Conference, Gainesville, USA, Small animal and exotics. Proceedings of the North American Veterinary Conference, Orlando, Florida, USA, 17-21 January, 2009, 2009, pp 1817-1821 - Full Text Article
References
Frye, FL & Williams, DL (1995) Self-Assessment Colour Review - Reptiles & Amphibians Manson